This cotton face mask is reusable and machine washable. It features 4 layers of pleated 100% cotton with a pocket at the top to insert any filter of your choice and the 1/4" elastic is shaped like an n95 mask so it's comfortable or you may request a earloop version. All masks now have a sewn in adjustable metal nose bridge. I have sanitized them in the wash as well before shipping out. But I advise all to wash again when you receive them.
How To Care For Your Handmade Mask(s):
CDC recommends cotton fabric masks to be washed in your regular laundry using hot water. After laundering your fabric masks, tumble dry them in the dryer on a high setting.
However, I find that cotton tends to shrink and I wash mine on delicate setting with warm water and lay flat to dry. If you do want to dry them in the dryer, please take out the elastic so it doesn't get damaged from all the heat.
You might consider using a non-scented laundry detergent if you are sensitive to perfumes so it is easier to wear the masks.
You can also hand wash your mask, using hot, soapy water. Scrub the mask for at least 20 seconds, and dry them on high heat in the dryer.
Store clean masks in a clean place when you are not using them.
 Fabric Content: 100% Cotton with elastic straps
Kid Size:
6.5" L x Side height 3"x 4.75" W (expanded when worn)
Top Elastic 10.5" Relaxed
Neck Elastic 7" Relaxed
Adult Size:
8" L x Side Height 3"x 5.75" W (expanded when worn)
Top Elastic 11.5" Relaxed
Neck Elastic 8" Relaxed
Adult Earloop Version:
8" L x Side Height 3"x 5.75" W (expanded when worn)
Elastic 6" length on each side  
NO RETURNS ON MASKS
Turnaround time 1-3 Business days + Shipping
Please advise the CDC guidelines here. 
Customer Reviews
07/01/2020
Evelyn
United States
Luv the mask
Hello to anyone reading this review. At first the mask was too tight. I totally agree with everyone. However I stretched it a little and wore it. The elastic stretched and now it's totally comfortable. The material is so soft and I like u can wash it in the washing machine. I think the important thing is to figure out how to wear the mask comfortably. I'm going to buy another one and try the elastic around the ear.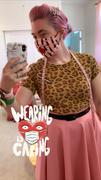 07/04/2020
Nikki Marie Apparel
Thank you for your feedback! Please let me know what length of the earloop version you'd like when you do go to purchase. I have small ears, so the 6" earloop works for me comfortably. I'm happy to accommodate what works best for you. Warm wishes, Nikki Marie
06/26/2020
Tamara
United States
Goldilocks approved.
I have a large head, which usually I dont brag about. But here is the thing. These masks fit me just right. Not too small, not too big. It covers my mouth, my nose and the elastic around the head is comfortable. And the material is soft, thick, but not stifling to wear. I stocked up, have a half dozen gaiters, a half dozen sewn ones with sewn tie straps, a couple of embarrassing ones I made myself (oiy... I dont know how they passed me in my home ec class way back when). and two of these. When I go out, I reach for these. They are my first choice. So thank you Nikki. Good job!
06/30/2020
Nikki Marie Apparel
Thank you for your feedback! I'm so glad they are Goldilocks approved. ❤️ Warm wishes, Nikki Marie
06/21/2020
Jen F.
United States
So well made
Nice mask and material, very well made
06/23/2020
Nikki Marie Apparel
Thank you for your feedback! I'm glad you like your mask. Warm wishes, Nikki Marie
06/21/2020
Robin R.
United States
Face Mask
It is completely unusable. The mask part is too small to cover from the nose to under the chin. And I couldn't figure out how the elastic straps were supposed to go. They seemed to be too small. Would have much preferred elastic straps that go around the ears. Very disappointing as I really did need a mask. Can't use this one.
06/21/2020
Nikki Marie Apparel
19 hours ago Thank you for sharing your feedback. I am sorry your mask didn't fit. Item measurements and specs are always listed under the description of the product to help with sizing and description of the product. The mask is delivered with the pleats pressed together, so when you do put it on you have to open up the pleats to cover the nose and mouth. That measurement is also listed of how wide the mask is when worn. However, I am working on offering the earloop version and I always accommodate special requests on orders. Please feel free to reach out to me n@nikkimarieapparel.com with any further comments, concerns, or suggestions you wish to share. Warm wishes, Nikki Marie
06/20/2020
Mary S.
United States
Too Tight!
Too tight! No way to adjust to make larger. An I'm a small woman!
06/20/2020
Nikki Marie Apparel
Thank you for sharing your feedback. I am sorry your mask was too tight. Item measurements and specs are always listed under the description of the product to help with sizing and description of the product. However, I am working on offering the earloop version and I always accommodate special requests on orders. Please feel free to reach out to me n@nikkimarieapparel.com with any further comments, concerns, or suggestions you wish to share. Warm wishes, Nikki Marie